Valentino Valdez, who many on Twitter affectionately know and refer to as @valdezign, was the first to tell me that this year's Hawaii International Film Festival (HIFF) would be screening "The Karate Kid Part II" which was the first film I got to do when I was 12. He asked if he could interview me about the film, and I was also able to tell him a little about "Bait," one of five short films included in this year's TalkStory Productions' HIFF entry of "The Short List."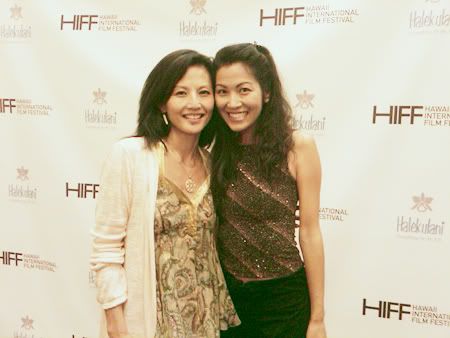 Tamlyn Tomita and me at HIFF (Hawaii International Film Festival).
We tried to do the interview in person, but timing and logistics posed some challenges as the days were leading up to last night's "The Karate Kid Part II" screening, so we corresponded via email, Twitter DM's (Direct Messages), and a few texts.
One of the things that have continued to surprise me was how Tino saw most of the work I've done (from campy flicks to pilot episodes). This surprised me even more because I haven't yet seen many of them.
He posted the interview early this morning, and many kind Hawaii folk have already shared it.
Here it is:
When The Hawaii International Film Festival (HIFF) announced they were bringing 'The Karate Kid Part II' back to the big screen for the 25th anniversary (showing tonight at Dole Cannery), I was stoked. It's such a cult hit, especially here in Hawaii, and I have fond memories of watching it with my family in the back of our shag-carpeted Chevy Malibu station wagon at Kam Drive-In, as well as re-enacting every scene with my sister and nephew. I was compelled to seek out the only person I knew, personally, that was in the movie–-local 'renaissance chick', Traci Toguchi—to get some behind the scenes scoops. Her role in the film (she's credited as 'Girl Ringing Bell') was not only a turning point in the movie (Sato sees the light!), but a turning point in her career. I sat down and talked with Traci (and by "sat down and talked", I mean, emailed her questions and waited for her to reply) about her experiences on 'The Karate Kid Part II', as well as catch up on her other projects as an actor, musician, designer, and yes, baker!
Was 'The Karate Kid Part II' your first film? Was it your first "Hollywood" job?
Yes, it was. It's how I got my SAG (Screen Actors Guild) card.
(My first acting job was a Japanese commercial for Mitsubishi of Japan when I was 8.)
What was it like working on such a popular movie? Can you describe some personal experiences you had with the stars of the film?
It was a dream come true. My sister and I kept Karate Kid posters of Ralph Macchio on our bedroom walls, so everything – from the audition process (standing and crying, hitting an imaginary bell in a room at the Ilikai Hotel), to the callbacks (on set with many other kids – all needing to climb the tower and cry), to the filming process (did some of my own stunts and had a stunt woman!) , to the premiere in Hollywood (my mom and I got to attend!) – was surreal.
From Day One, Ralph was so kind, thoughtful and professional. We shot that bell tower scene a zillion times (not only in Hawaii in Kahalu'u, but also in Los Angeles in a movie studio parking lot). That required much rehearsal and getting wet, cold, and muddy. After every take, everyone would rush to Ralph, but he'd tell everyone to help me first, and let me to go first to take a hot shower (and clean off for the next take). He made sure I had hot cocoa. I'll forever be grateful for his kindness.
… continued at ValenTumblr – An interview with 'Girl Ringing Bell', Traci Toguchi
~ ~ ~
Thanks uber much, Tino!